The tab

PRODUCT FILTER in the module Anchor Design contains four groups:
On the tab Products all manufacturers are displayed that you have permanently activated in the settings.
Products
With this function products you can temporarily filter individual manufacturers or specific product groups. These settings are not permanent and apply only to the current session in DesignFiX (see Permanent settings). This option helps you to search for suitable products.

---

Filter active

This function enables or disables the following filter options:

▪Anchor type, installation type, material

▪Approval, curing time, thread type

▪Diameter, embedment depth, fixing thickness

If the filter is inactive, all the products of the selected manufacturer are displayed. Enabling or disabling the filter is particularly useful if you want to check which products are affected by your filter settings.
This group contains main filter options for which DesignFiX searches:
▪Mechanical anchors
▪Threaded rods (chemical anchors)
▪Reinforcement bars (chemical products)
▪Cast-in-place systems
▪Through fixing (in-place installation)
▪Pre-positioned installation
The different types of materials are grouped in a tree structure.
You can filter or exclude specifically certain materials or even entire groups of materials.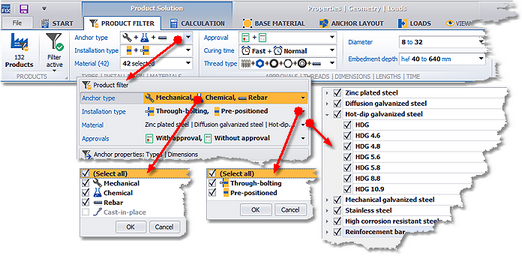 This group offers more detailed filter settings such as approval, curing time, thread types, diameter (from/to), embedment depth (from/to) and fixing thickness. Please note that the product quantity can be significantly reduced by "unfavourable" settings. Furthermore we recommend to reset the filter settings after every detailed investigation (compare reset filter options).

All products that result from the filter settings are displayed on the tab products.
Online version: German | English