DesignFiX Project CHEMOFAST
Manufacturer of fastening systems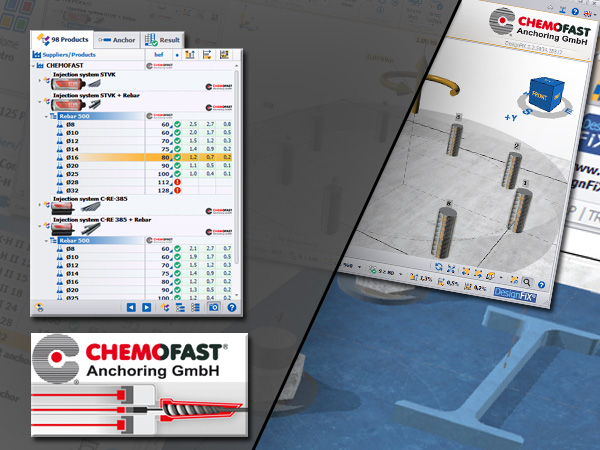 Company
CHEMOFAST® Anchoring GmbH
Hanns-Martin-Schleyer-Str. 23
D – 47877 Willich
Available product families in DesignFiX
Injection system STVK
Injection system STVK Rebar
Injection system C-RE 385
Injection system C-RE 385 Rebar
Injection system C-RE 385 DIAMANT
Injection system C-RE 385 Rebar DIAMANT
Injection system PA
Injection system PA Express
Injection system PA Tropical
Injection system PASF
Injection system PASF Express
Injection system PASF Tropical
Injection system EA
Injection system EA Express
Injection system EA Tropical
Injection system EASF
Injection system EASF Express
Injection system EASF Tropical
Check out what our customers say about us:


Wir sind von der Funktionalität und dem Preis-/ Leistungsverhältnis von DesignFiX begeistert. Die permanenten Updates garantieren uns, eine Software anbieten zu können, die immer auf dem neuestem Stand ist, ohne selber aktiv werden zu müssen. Wir können unseren Kunden damit eine für uns kostengünstige und professionelle Möglichkeit bieten, die gängigsten Bemessungen durchzuführen. Mit der Echtzeitbemessung kann der Anwender unmittelbar die Auswirkungen einer Änderung seiner Anwendung sehen und bewerten. Der Service und die Betreuung durch das DesignFiX Team sind ausgezeichnet. Wir brauchen uns um nichts zu kümmern. Das spart Zeit und Ressourcen.





You want to be a part of DesignFiX?
You might be also interested in the following
Why Choose DesignFiX?
It's intuitive to use – for beginners and pros alike