DesignFiX – The Benchmark for Anchor Design – Become a Real Anchor Profi:
DesignFiX is an all-purpose anchor design program for manufacturers of fasteners for free distribution to their clients such as engineers, planners or craftsmen. By using the software, the clients can design mechanical and chemical heavy duty anchors under static loads and under the influence of earthquake. It takes into account internationally recognized regulations such as the European directive ETAG 001, the American standards ACI 318-05, ACI 318-08 and ACI 318-11 or the Canadian standard CSA A23.3-04. Therefore, it can be used in many countries worldwide.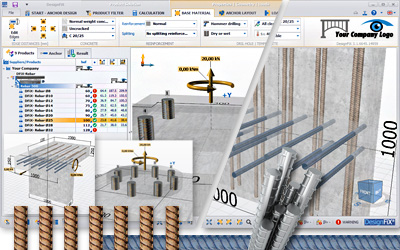 High-performance injection mortars are suitable for anchoring threaded rods and internally threaded sleeves as well as reinforcing bars. A distinction is made between reinforcing bars that are used as anchors and bars for post-installed rebar connections. The design methods are correspondingly different.
read more
Why Choose DesignFiX?
It's made for your Company:
A Real Anchor Profi
The solution for your business:
Get Your Free Version
Be inspired by DesignFiX